With nearly 500 member companies representing owners, developers, general contractors, architects and engineers, lenders, attorneys, brokers, title companies, utility companies, community development organizations and other industry members representing all facets of real estate development, the District of Columbia Building Industry Association's (DCBIA) vision is to help make Washington, DC a vibrant city that is meeting significant challenges to be a livable, competitive and thriving community for all.
Since 2000, Pamela D. Bundy has served in several executive and other positions on the membership and Board of Directors of DCBIA, including currently serving on its Executive Committee and serving as the Association's Vice President from 2014?-2017.
DCBIA's mission is: to lead (be the voice of the real estate development community); build (to enhance the capability and effectiveness of DCBIA members; and partner (with governments, business and civic organizations to strengthen the city and realize its vision).
Through its programming, advocacy, networking, and community service, "DCBIA is the most prestigious organization in Washington, DC," said Pamela D. Bundy during her presentation at the DCBIA 33rd Annual Awards Dinner in 2017.*
In addition to serving in an executive leadership capacity, Pamela also enjoys volunteering her time and contributing financially to support to an annual community service project for the DC real estate industry that began in 1993.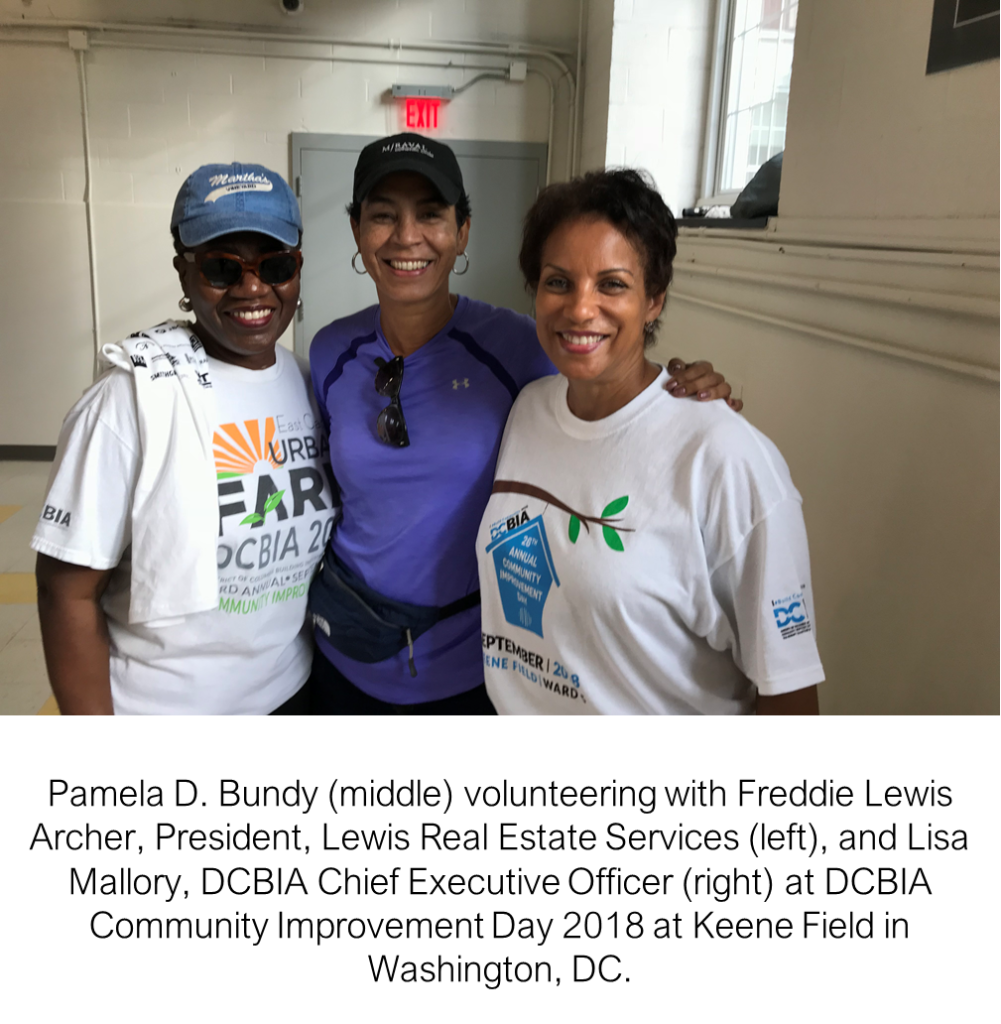 For 28 years and counting, DCBIA brings together hundreds of real estate industry and community volunteers to renovate a park or recreation center in Washington, DC. The effort draws on the architectural, general contracting and general labor experience of the industry – and their spirit to give back – to deliver a new community asset for the people of Washington, DC. The work is executed on one day in the fall, known as DCBIA Community Improvement Day.
In 2021, in addition to park and recreation upgrades to be executed in this fall, DCBIA is pivoting its resources to support the hard-hit restaurant industry to build outdoor dining space to expand their capacity. As public health restrictions loosen up, restaurants can increase their foot traffic, hire more DC residents and bring back our neighborhood and commercial corridors as we move out of the pandemic.
[/fullwidth]
Watch the story of DCBIA's effort at Keene Field in 2018.
(Video link: vimeo.com/218821748)
(Community Improvement Day video: vimeo.com/349706169)